Automation steps: Google and Amazon Loc Translate
Forget using machine translation for each individual language pair, (pre-)translate all your languages in one step. It's never been easier with the new automation steps for Google and Amazon Translate.
Google Loc Translate and Amazon Loc Translate allow you to translate multiple languages at once by using these machine translation engines.
All you need to do is select your source language and pick the target ones you want to translate into. The automation step can do it all at once when a new record is added, an existing one updated, or you can trigger it manually for selected cells.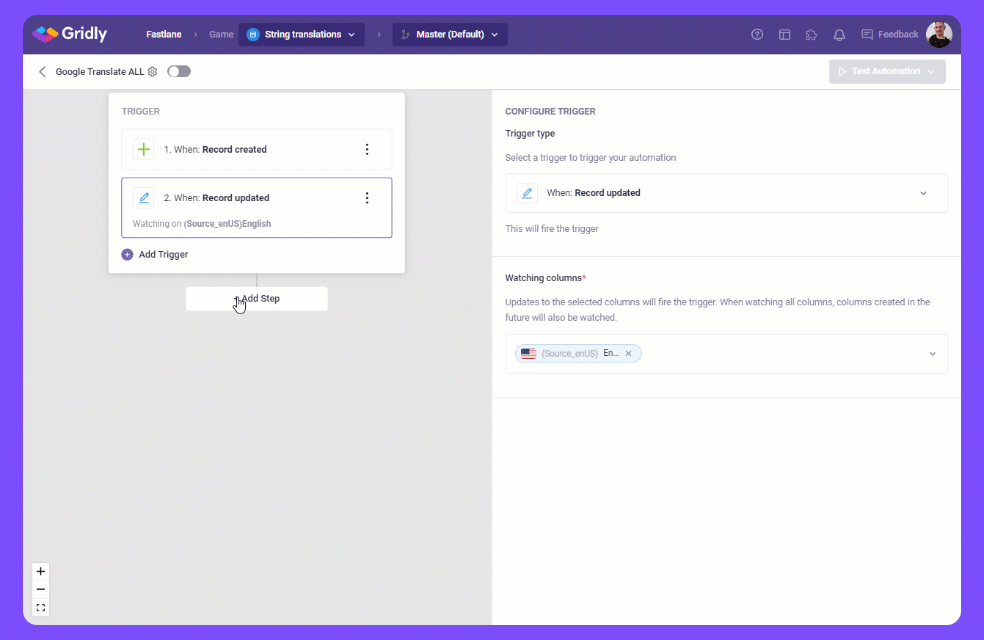 Grid Settings
Grids are the fundamental Gridly building blocks. To describe a Grid's purpose and help understand the context of intended use, you can now add additional information and metadata, or attach entire documents to any of them.
In settings, which are accessible from the side panel, you can also set the default status for new source language records in the Grid and see information about when was the Grid created, by whom, and when it was last updated.
More updates released in July 2023
Ability to format the DateTime results given by the Formula column.
Timezone settings for the DateTime column type.
Support for managing shared groups when creating a new branch.
Ability to import multiple localization files at once with drag-and-drop.
Set the up-to-date status for all unchanged translations during Localization import.