Reorder and import content faster with drag-and-drop
When managing game content like dialogue or story parts, order really matters. We have therefore introduced an easy way to reorder records. And it's as intuitive as you would expect from Gridly. Simply drag records you want to move and drop them at the desired location.
And that's not the only new drag-and-drop move you can use to save you from endless clicking. You can also import a file by just dropping it to the cell you want, no import steps needed.

New translation statuses
Gridly has built-in localization support that enables you to manage your translation. Changes in the source language(s) are automatically reflected in target languages, according to your settings. 
To enhance the process, we are launching new statuses differentiating between out-dated content and content not-translated at all. Statuses are clearly defined by color, where green is for up-to-date content, orange for out-dated, and red for not-translated. They are also part of the import and export process now. By using Dependencies, you can leverage this tracking for any content, not just your translations.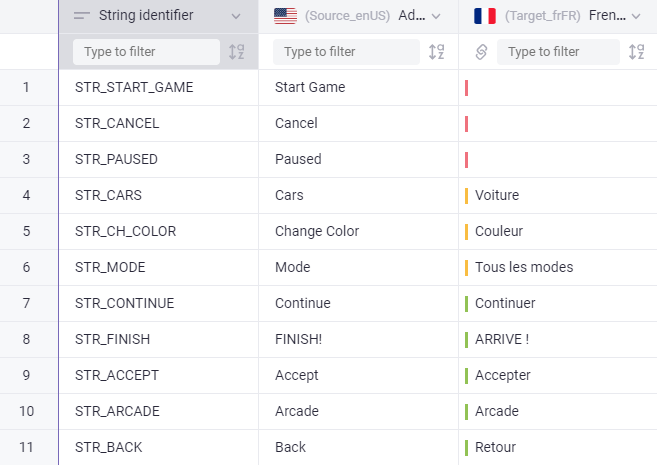 Say hello to References
References are another great improvement released in October, allowing data in a column in one Grid to point to data and values in another column in another Grid. You can therefore refer to your existing content from various locations. When updated, the changes are populated everywhere.


Playable audio and video files
You are probably aware that you can manage multiple types of content with Gridly, not just strings. In terms of audio and video files, we are excited to announce that as well as storing them in Gridly, you are able to listen to them or watch them directly within our user interface, no downloading needed. 
Other time-savers & improvements
You may think that seems like quite a lot of new stuff only 6 weeks after launch, so that's a nice treat. But hey, there's even more: 
Copy & paste anything: copy and paste is supported for all types of content. Anything can be copied from one cell and pasted to another one (if you're allowed to).
Duplicate Grids: there's no need to start from scratch when creating a Grid. It can be duplicated with the exact same settings, with or without records.
Embed JSON and YAML: new data types related to code formatting are available now. JSON and YAML codes can be embedded right into a cell in a Grid. 
As you can see, things are moving at a fast pace in Gridly. There is no better way to check them out than to sign in and try them yourself. Plus, there's one new thing I forgot to mention, you can give us your feedback directly in the app. Do you have any?