Automation is the key to efficiency
Powered by the latest developments in AI technology, Gridly's Automations can quickly streamline your team's pipeline. And they're way easier to use than you might think — with just a few clicks and no development experience needed, you can create fully automated workflows that bring the speed you're looking for at a level of quality you can trust.
Translate strings in seconds to test your UI in any language. Hear your voiceover script in real time as you're writing it. Understand how users around the world feel about your brand, products, and services. All this and more, completely automated within an intuitive spreadsheet interface.
Get instant multi-translations for all your strings
Machine translation (MT) brings a wealth of efficiency-enhancing benefits throughout the localization process. There's no longer a need to wait on your translation partners before you can test your UI, scan for hard-coded strings, and identify encoding issues.
MT isn't just for CAT tools anymore. Leverage leading MT engines from Google and Amazon for reliable pre-translations that you can use immediately to evaluate your app. Customizable workflows give you full control over when MT is activated on both source and target languages as well as what happens next.
Detect overlong strings that conflict with your UI layout.
Identify font and encoding errors when specific languages are displayed.
Flag hard-coded strings that block smooth localization.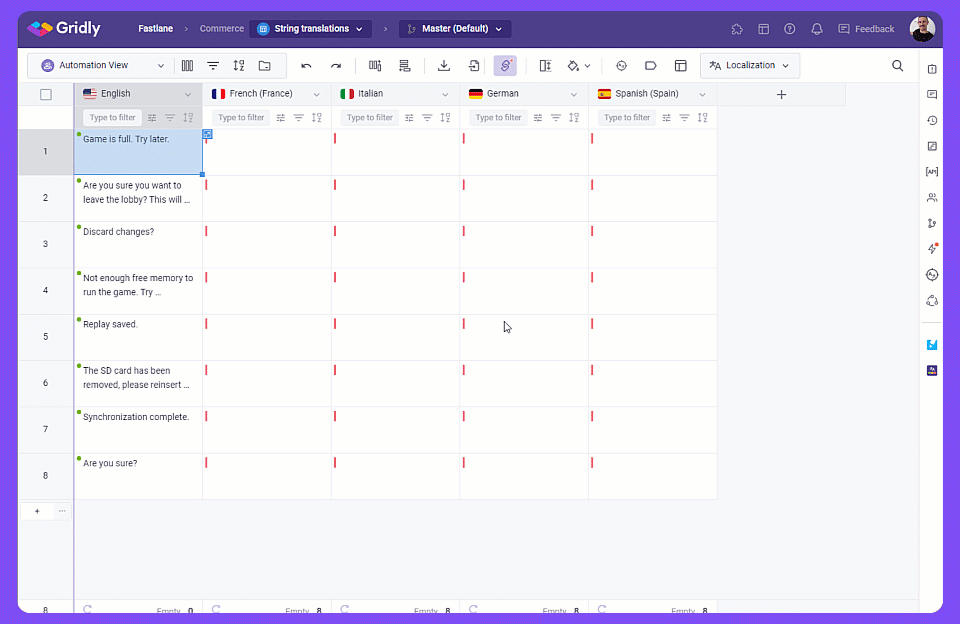 >> Explore the potential of automated machine translation
Save time and money vs. traditional translation methods
The translation phase is the most time-consuming and expensive portion of the overall localization workflow. But by combining the efficiency of machine translation with the knowledge of human experts, you can enjoy professional translations that are both cheaper and faster than traditional translation methods.
Machine translation post-editing (MTPE) is the process by which human translators edit machine-translated text. With MTPE, you'll enjoy the quality of human-created translations along with the speed and cost-saving benefits of advanced MT services.
Automatically extract and translate text from screenshots
Screenshots are a great way to evaluate translated text as it appears in a game or app. You're able to assess how translated strings will appear and whether they're doing so in the right place. But working with text contained inside the screenshots can be notoriously cumbersome.
Turns a tedious process into an instantaneous one with automated optical character recognition (OCR). Google's OCR engine automatically detects and extracts text from screenshots for easy content sharing and work. Then, apply the machine translation automations described above for instant pre-translations to or from any language.
Generate high-quality voice overs in real time
Want to test out script length as you're writing? Need a quick way to pre-validate audio files? Or maybe you're looking to avoid unwanted re-recordings with high-quality voice overs that won't shatter your budget? Amazon's text-to-speech Automation is the answer.
Hear your strings in real time through a wide range of lifelike voices and accents, without wasting time on tedious audio file management and incorrect file names. Gridly automatically generates voice overs and saves the files right in the same row as your source text. Working with audio files just got a whole lot easier.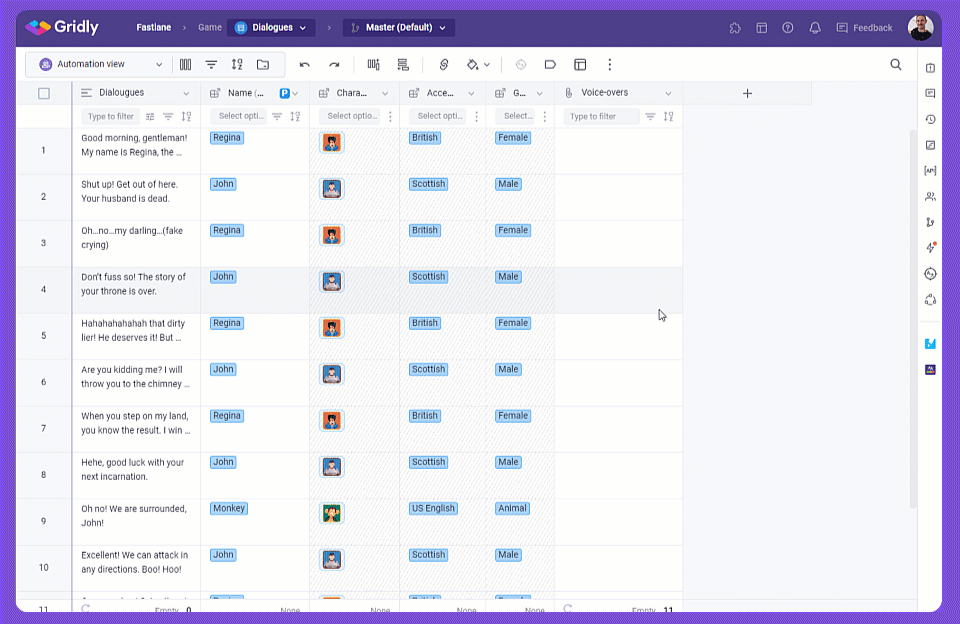 >> Discover more about automated voice overs
Gain actionable insights into how your users feel
Through reviews, social media posts, forum comments, customer support, and other interactions, your users are constantly providing you with feedback. But manually processing all that unstructured data can be a nightmare. Automated sentiment analysis transforms this insurmountable task into actionable data that's ready to use.
Create fully automated workflows that auto-detect source languages, translate user comments, and perform sentiment analysis to let you know how your users feel. Use your findings to identify priorities and allocate resources for maximum effect, boosting user acquisition, retention, and revenue.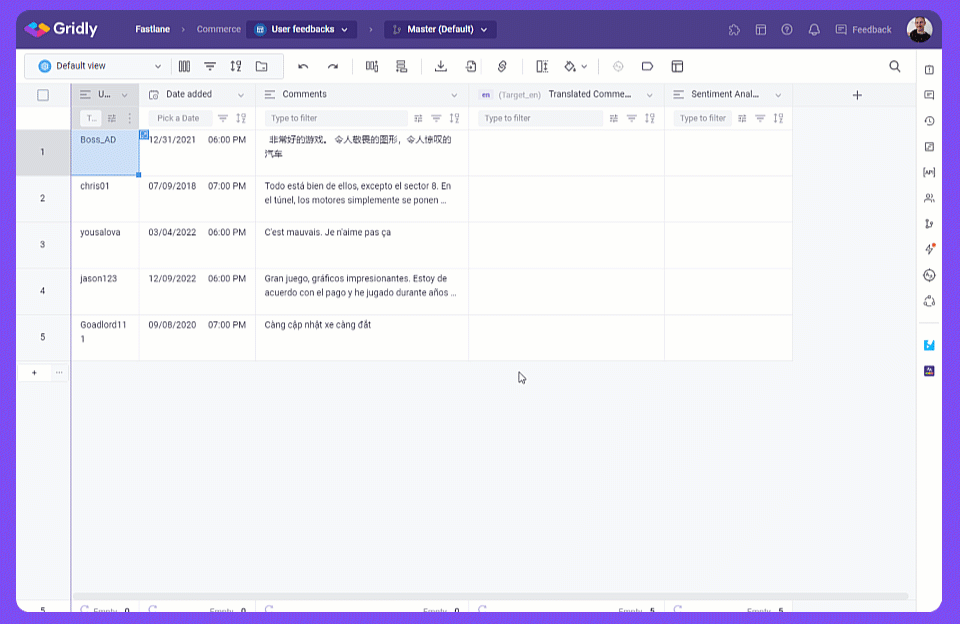 >> Learn more about how sentiment analysis can help
Automate communication across teams
Every repetitive action takes time away from more meaningful work, and that includes time spent creating JIRA tickets or messaging colleagues with project updates on Slack. Tag your teammates in with automated JIRA tickets and Slack messages instead.
Design fully customizable automated workflows that update the people and channels you choose whenever the specified conditions are met. All that's left is to apply your skills and talents where they can make the most impact.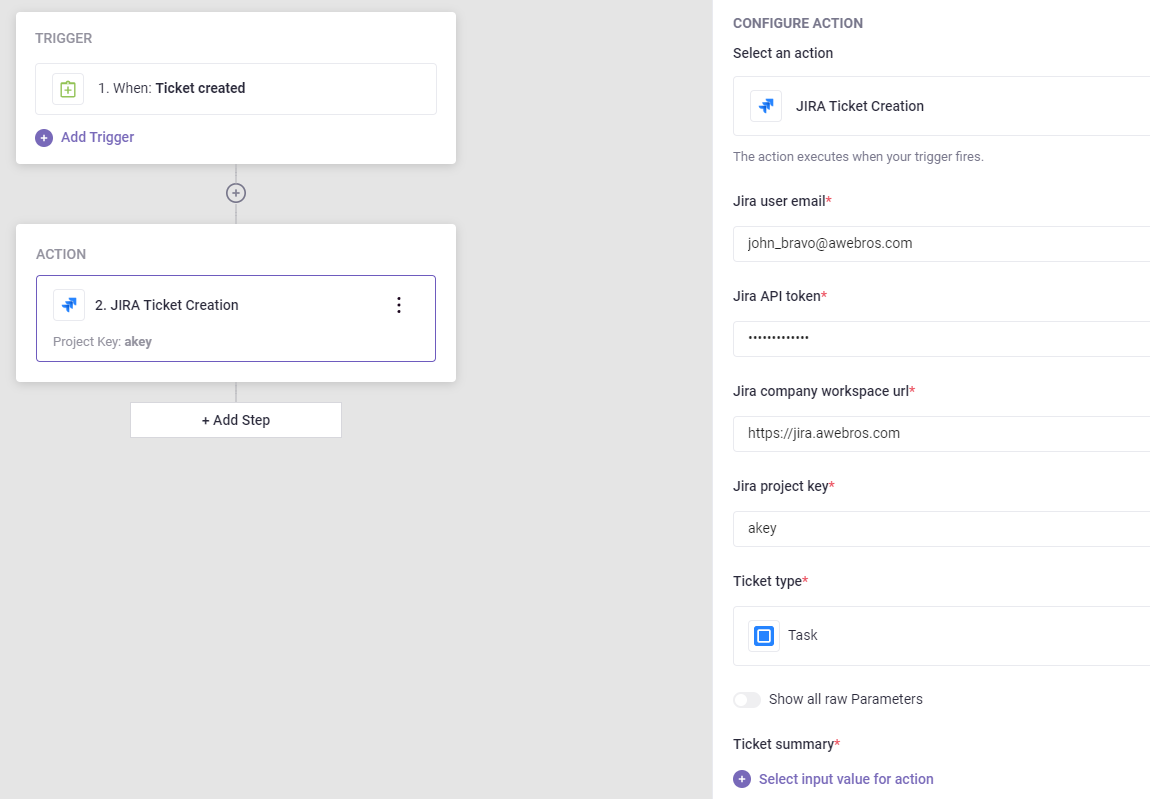 Design fully customizable automated workflows
You don't need to be a coding genius to take advantage of AI automation. Gridly's workflow designer empowers you to implement the automated processes your workplace needs in just a handful of clicks.
Follow the simple step-by-step process to add Automations and create completely automated sequential processes. Then, test your new workflows before implementation to make sure everything works as it should.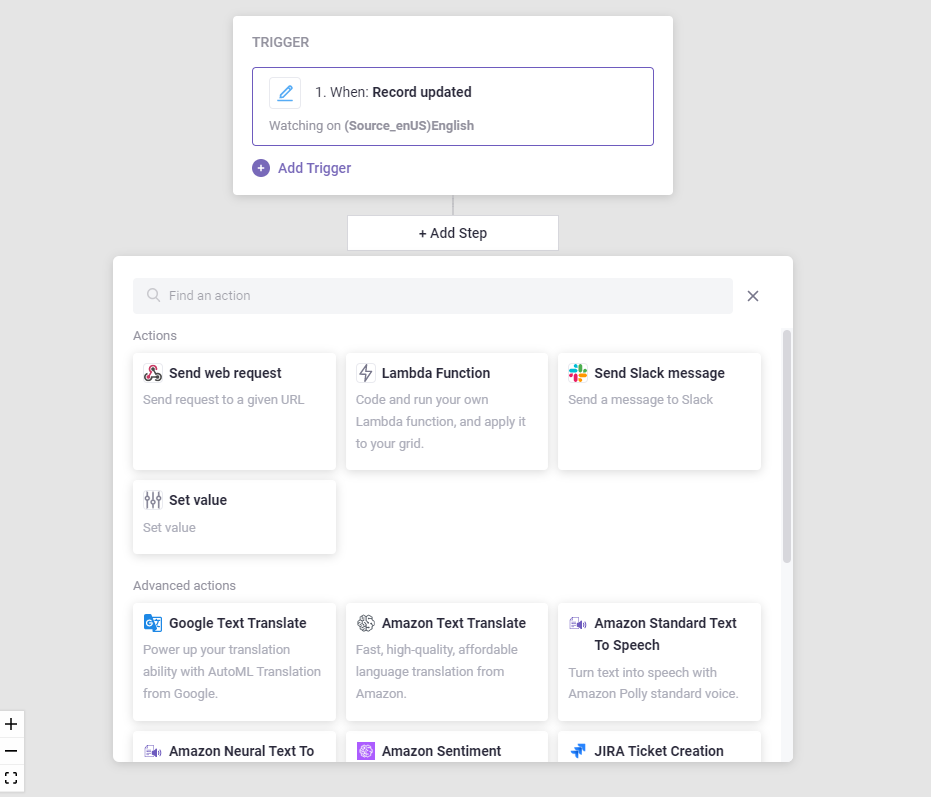 >> Learn how easy it is to automate your workflows
Increase efficiency and optimize flows with Automations
AI automation brings a wealth of benefits to localization managers, audio engineers, and CX professionals alike.
Embed market-leading machine translation services into your localization process to pre-translate thousands of strings at once, translate from screenshots, and unlock further possibilities with customizable workflows. Keep the entire team informed with automated updates on JIRA and Slack.
Generate lifelike voice overs to pre-validate audio and test string length as you create. Get all your audio files in one workspace. Gain a nuanced understanding of your users around the world, no matter which languages they speak, to identify priorities and make targeted recommendations.
Do it all with the flexibility and freedom of an intuitive, easy-to-use workflow designer. Get started with Automations today.