The go-to place for tracking localization progress
Synchronizing a localization project with a release timeline can be a tough job. Especially in the case of heavy projects with multiple translator teams involved. This is further complicated if you have a multi-step localization workflow, where translation to a pivot language occurs.
The Translation Dashboard provides localization project managers with a clear overview of how translators are progressing with their assigned jobs. Just one quick glance is needed to find out the overall progress of translation into all target languages.
Knowing how many strings and words are completed, out of date, or still need to be translated is crucial for project managers. The ability to extrapolate whether the expected delivery date is on track so that translations make it into the game in time is key. And these exact numbers, updated in real-time, are found in the new Translation Dashboard for all languages involved.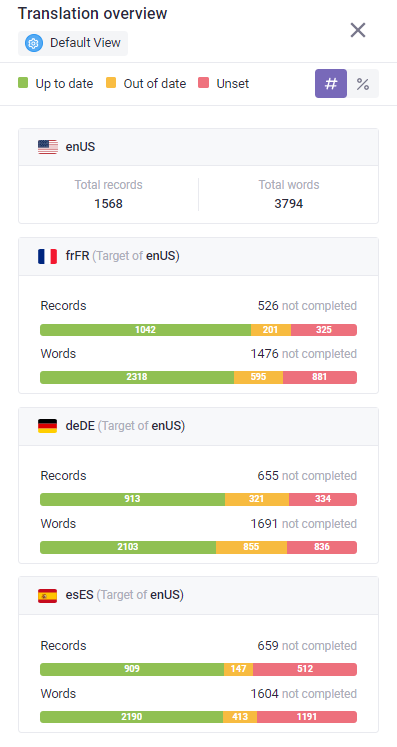 Tracking progress with the Translation Dashboard is exceptionally easy to do. The only thing that needs to be done is to navigate to Gridly add-ons, select the Translation Dashboard, and click install. That's it. Translation status is tracked for every Grid with source and target languages with dependencies set.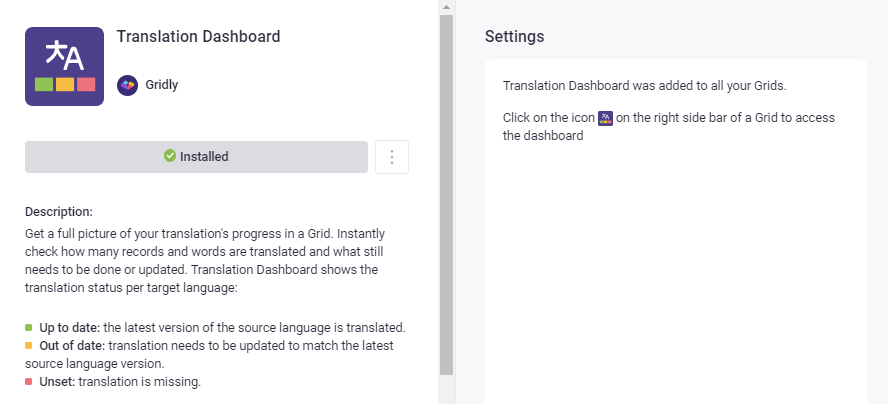 The Translation Dashboard is the first of many add-ons planned to provide additional value to Gridly customers. The next one to be launched is Memsource integration, which is available in a beta release now.
Editable Record IDs for easier data exchange
Record IDs are an important part of Gridly as they are used as identifiers for updating records (rows) in Grids. For example, when new data is imported to update existing records, the Record ID is used for pairing.
In the previous product update, we introduced editable Column IDs. Now, we're also allowing the editing and customizing of Record IDs to make the exchange of data with third-party systems far easier.
In practice, that means customers can use various string IDs they're already using in their tools, such as game engines or version control solutions, to identify and update data in Gridly.
Moreover, customers can set their own strings as Record IDs using the "add" record API query and update the records simultaneously. Coming up in the following few weeks, full API support for updating Record IDs will be available, stay tuned!
Of course, these major updates are not the only new things released in Gridly. You can find the complete list of all January product updates in our changelog here. Happy Gridlying!